Dunollie Rose & Honeysuckle Kit by Deborah Wilding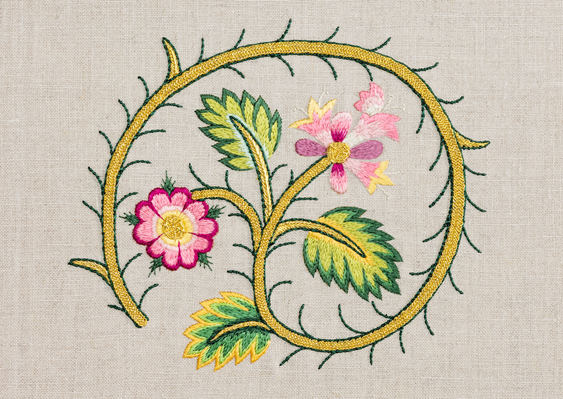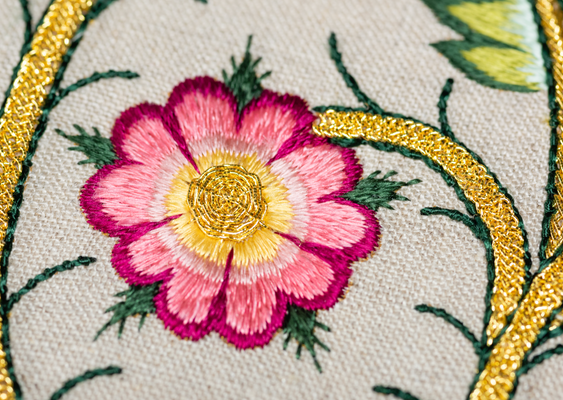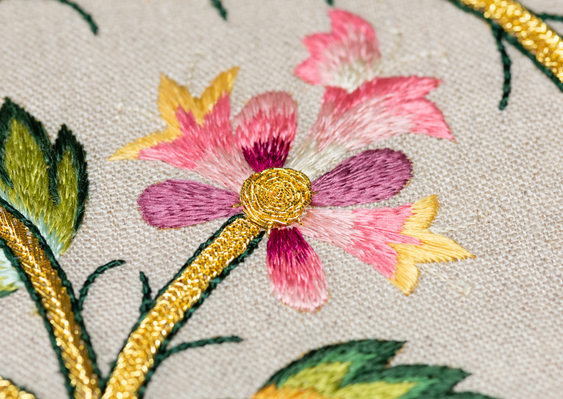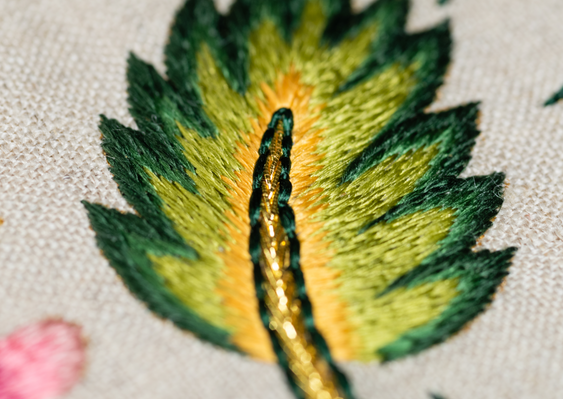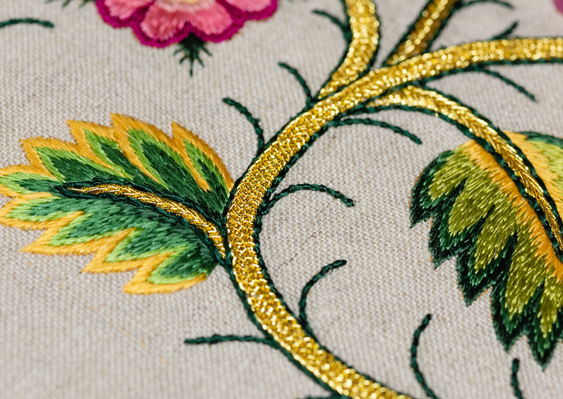 Recreate this exquisite silk and metal thread roundel, a design featured on an 17th Century embroidered waistcoat owned by the MacDougall of Dunollie Preservation Trust at Dunollie Castle on the West Coast of Scotland. 
This opulent design features a classic Tudor rose and beautiful honeysuckle motif, stitched using a clever combination of historic techniques and colours to create an aesthetically harmonious result.

Originally created with Deborah Wilding for our 2023 Lady Anne's Needlework Festival, this kit comes with all the love and care you have come to expect from the Crewel Work Company. Our hand-illustrated instructions make this the perfect design to take your silk and metal thread skills to the next level. 
Suitable for: Intermediate or advanced embroiderers
Kit Includes: Pure linen valencia evenweave, 13 DeVere silk threads, gold thread, 3 x needles, a 24-page stitch instruction booklet, 2 x A4 stitch charts, an A5 colour photo

Design size: 15 x 18 cm (6 x 7 in)
Linen size: 40 x 40 cm (15¾ x 15¾ in) 
Stitches: Block Stitch, Elizabethan Braid Stitch, Herringbone Stitch, Ladder Stitch, Long & Short, Split Stitch, Straight Stitch, Surface Couching, and Woven Wheel
All of our embroidery kits by guest designers include everything you need to complete the design, Finishing materials are not included.
Frames, scissors and finishing materials are not included in your kit. To stitch your design, you will therefore also need:

1. An embroidery frame of your choice (such as a Seat, Floor or Slate Frame)
2. A pair of embroidery scissors

We recommend the Elbesee Seat Frame, which we sell in our store with three different sized hoops. You can buy the Seat Frame here or as part of our Starter Sets, which you can combined with your kit purchase and receive 10% off.
We are passionate about keeping embroidery alive, a living art form which new generations are inspired to try.

The countless benefits of practicing embroidery include lowering blood pressure, regulating breath, calming the nervous system, and providing an excellent excuse to form deep social bonds with friends, family and your local community.
If you want to experience some of the same benefits of practicing embroidery and think this might be the kit for you, please reach out to us and let us know how it helped you!
We offer complimentary Standard Delivery on all UK Orders over £100 and all International orders over £200.
_________________________________________________

UNITED KINGDOM
Complimentary Standard Delivery ~ 2-3 Working Days (Orders over £100) - FREE
Standard Shipping ~ 2-3 Working Days - (Orders under £100) - £5
_________________________________________________
EUROPE
Complimentary Standard Delivery ~ 3-17 Working Days (Orders over £100) - FREE

Standard Shipping ~ 3-17 Working Days - (Orders under £100) - £8-£10 (depending on the weight of your order)

Express Shipping - 2-11 Working Days - £7-£35 (depending on the weight of your order)

DHL - Live rates calculated at check out
_________________________________________________

INTERNATIONAL
Complimentary Standard Delivery ~ 3-17 Working Days (Orders over £200) - FREE

Standard Shipping ~ 3-17 Working Days - (Orders under £200) - £7-£10 (depending on the weight of your order)

Express Shipping - 2-11 Working Days - £9-£40 (depending on the weight of your order)

DHL - Live rates calculated at check out
VISIT OUR DELIVERY PAGE FOR MORE INFORMATION.
_________________________________________________
If you shop at our online store, your order is handled by our dispatch team managed by Georgie and Frankie in our Appleby office.
Georgie personally selects your kit and checks it's contents before passing it to Frankie to wrap in tissue paper and seal it with our signature logo sticker before it is prepared for shipping.
All with care and sincere thanks for your support. Each owner of a Crewel Work Company Kit is part of our wider family so please keep in touch as we love to hear about yor progress, the ups and downs of creating your piece, and how it ended up!
__________________________________________________
RETURNS 
We are committed to bringing you high quality needlework experiences, which is reflected in the choice of materials included in our kits. If, however, you are unsatisfied for any reason, we are happy to refund the whole amount to you on receipt of the product you have purchased. Refunds will be accepted within a 30 day period of when you receive the product.
All items should be returned new, unused and in original Crewel Work Company packaging.
All successfully returned items will be credited to the card used when placing the order, less any shipping costs, international taxes or import duties incurred. For payments made by PayPal, refunds will be credited to your PayPal account and will be visible immediately. Reimbursement time to the credit card associated with your PayPal account depends on the company that issued the card.
Parcels are returned at your own cost, and it is advised that you obtain a free certificate of postage from the Post Office or any courier company of your choice, as we can only be responsible for your parcel once it has been received into our offices. We can also arrange for our courier company to collect the parcel. You will need to be at the provided address to hand over the parcel, and there is a charge for this service.

As the responsibility for international customs duties and local VAT/GST (outside of the EU) lie with the customer, The Crewel Work Company are unable to refund any charges incurred upon delivery of the order. However, you may be able to recover these by contacting your local customs bureau directly. 


Please note, items should not be returned to us without prior notice. 
Shipping costs will be refunded for items that are incidentally delivered in a damaged or in a faulty condition and for orders cancelled before dispatch under the Distance Selling Regulations (DSRs).
All orders should be returned to The Crewel Work Company, The Appleby Hub, Chapel St, Appleby-in-Westmorland CA16 6QR, United Kingdom. You will be notified by email once your return has been received and processed by a member of our team. 

For additional help or queries regarding the returns process, simply contact us.
__________________________________________________
DUTIES
Depending on which country we are sending your goods to you may incur import duties.